7 Things You Don't Know About Withdrawals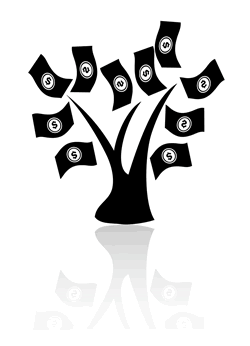 Depositing money at sports betting sites is pretty easy. You just register an account, pick a payment method, and send over your funds. Some methods are processed the same day so you can begin betting right away.
But when it comes to withdrawing your money? Well, you could find yourself in for some unpleasant surprises if you are not prepared. Withdrawing your money may involve jumping through some unexpected hoops—and could involve limitations you were not aware of.
This is the main reason I keep up with a weekly sportsbook payout report where I list how long it takes and when a sportsbooks pays out each month.
You know that moment when you join a site and you have to check the box that states, "I have read and accepted the terms and conditions?" Lots of people never click through and read them—they simply check the box and move on.
In fact, the Gambling Commission in the UK reports that only 23% of gamblers on a survey said that they had bothered to do this. In other words, 77% of gamblers in the UK never read the terms and conditions before joining a site and depositing money. I have never seen stats outside the UK, but we can guess that they are similar in the USA and elsewhere.
Unfortunately if you do not read the terms and conditions, you can miss a lot of information involving withdrawals, much of it buried down near the bottom of the page.
We're here to prevent you from being caught off-guard in the future. Here are some things you may not be aware of regarding withdrawals.
Identity verification may be required.

Imagine you recently won a big bet, and your account is now brimming with funds. You put in your withdrawal request and eagerly await your funds. Only you now find out that your request cannot be processed yet because you have failed to submit a bunch of paperwork that proves you are who you say you are.

What? You were not aware of any paperwork. Why do you need to do this? It is going to take you days to get everything gathered together and faxed over. And you are not even sure you really trust the website and want to do this.

This is the point where a lot of frustrated bettors take to internet forums to complain. But had they read the terms and conditions, specifically the withdrawal policy, they would have noticed that identity verification was required.

Websites typically ask for this in order to protect themselves and you. They want to make sure they are sending payouts to the right people, and not to identity thieves. They may also be striving to stay compliant with local or regional laws. That means checking if you are of a legal age to bet.

What if I Bet With Crypto?

You might think you can avoid identity verification by gambling on a bitcoin-only sports betting site. In some cases, you can, but you should be aware that a lot of crypto betting sites now have the same identity verification requirements as non-crypto sites.

There may be situations where you are uncomfortable verifying your identity. If you do not trust a website with your documents, you should not gamble there in the first place.

Always check in advance whether a site will allow you to withdraw without submitting paperwork. If the answer is "no," then ask yourself if you feel your private information will be safe with the site. If the answer to that is also "no," you should join a different site.

There are a lot of sites where you frankly shouldn't submit your private information because quite a few online sportsbooks are dodgy and under-funded. But there are plenty of excellent sites which have solid reputations and which will protect your private information (you can view our recommendations here). You should not feel nervous about undergoing identity verification at these high-quality sites.

You may need to verify your identity more than once.

What can come as a bigger shock than needing to verify your identity once is when you need to do it twice. You might very well have completed the process ages ago. After months of making withdrawals without a hitch, you suddenly are told that you have to submit your paperwork again.

This can happen at online sportsbooks for a few different reasons. It could be that you have recently made a change to your payment information for example—maybe you have attempted to use a different method for your withdrawal than you did to make your deposit. It might also be because you made a mistake entering in your payment information, resulting in a mismatch.

In both of these cases, you are being asked to submit paperwork again because the site wants to make sure it is really sending your money to you, and not to an imposter.

There are a couple of other scenarios where it is common to have to verify your identity again before you can withdraw. After a long period of inactivity, some sites will do it as a matter of routine. If you are trying to make an especially large withdrawal, that too can trigger a second request for identity verification.

Knowing this in advance means you can have your documents ready. In fact, it is always wise to have copies ready to submit. You may mistype your card information. You may suddenly win a large sum of money you want to withdraw right away.

Processing times for different methods vary.

Some withdrawal methods offered by betting sites take a lot longer to process than others. Familiarize yourself with the different processing times in advance and you can spare yourself some headaches—especially if the site only lets you withdraw using the same method you used to deposit. You do not want to inadvertently select a method which is going to take weeks instead of days.

Bitcoin transfers are not instantaneous.

There seems to be a common misapprehension regarding the speed of bitcoin transfers, with a lot of people assuming that they happen at lightning speeds. As such, you might expect your bitcoin deposits and withdrawals to be instantaneous at your online sportsbooks.

In actuality, bitcoin transfers take time to process, and that time can vary considerably based on a number of factors. Since the network is more bogged down than it used to be (since bitcoin is now so popular), transfers on the whole are slower than they used to be.

How long can you expect your bitcoin withdrawals to actually take to process? Well, first of all, you need to wait for whatever processing the betting site may need to complete on its end before the transfer is initialized. After that, if you luck out and your transfer is fast (as is common), it will probably take around 10 minutes to go through. In some cases, transfers may take a few hours to complete. Now and again, they may even take a few days. So plan ahead accordingly.

Your online sportsbook may only process withdrawals on certain days.

Another assumption bettors frequently make online is believing when they submit a request for a withdrawal, it is instant processing. But remember, all you have technically done is made a request. The request still needs to be approved by your sportsbook.

Check to see which days the sportsbook approves requests. Avoid submitting your withdrawal requests on days when they will not be processed. If requests are not approved on weekends and you submit yours on Saturday, it won't be until Monday that your request will be reviewed and approved.

There are some sites which set aside just one or a couple of days a week to process requests, so if you do not submit according to that schedule, it can result in even longer delays.

Sometimes bonuses can tie up your funds.

Another thing you will miss about withdrawals if you don't read the terms and conditions is that your withdrawals may hinge on the bonuses and promotions that you have chosen to accept.
Almost all bonuses offered by sportsbooks online have turnover (rollover) requirements. As an example, a site lists a 20x turnover in its terms and conditions for its bonus. If accepting that bonus, it means that you must wager the amount of the bonus (or the bonus + your deposit, in some cases) 20 times before you meet the requirement.
If you have not yet met the turnover requirement, that can result in snags with withdrawals. Any of the following are possible:
Can make the withdrawal, but you have to pay an additional fee.
Able to withdraw your deposit, but nothing else.
Can withdraw your deposit, and the percentage of your winnings which the site deems "yours." If you received a 100% bonus for instance, you might be able to withdraw 50% of your winnings since 50% of the money you were betting with still belongs to the sportsbook.
Able to withdraw as much as you want, but the amount of the bonus will be deducted from the withdrawal.
You might encounter other variations on those limitations as well. If you are not aware of the restrictions in advance, you could be both very angry and confused if the amount of money you are eligible to withdraw turns out to be less than you envisioned.
Again, you should find this information in the terms and conditions. If it not on the terms and conditions page, it'll be on a separate page which lists bonus terms and conditions. Can't find it? Don't accept a bonus until you have asked a customer service representative about how it will impact your withdrawals.
There may be additional restrictions or fees.
Finally, there may be other fees or limitations you do not know about. You might be hit with a fee if you try to withdraw more than a certain number of times within a single calendar month, or you might be charged a fee if you attempt to withdraw less than a certain minimum sum (which could be much higher than you think).
Again, reading the terms and conditions is a good way to spare yourself from these unwelcome surprises. If you find the terms confusing or self-contradictory (which may happen more often than you would expect), talk to customer service directly to get to the bottom of things.
Withdrawals Can Be Complicated, But Familiarizing Yourself With Your Sportsbook's Policies Can Keep Them Fast, Simple, and Affordable
Lots of bettors online are eager to get started wagering on sports. They're fast to make their initial deposits, claim their bonuses, and begin betting. Then they are confused and upset later when they encounter hassles with their withdrawals.
While their vexation is understandable, in a lot of cases it was probably avoidable. Had they read the terms and conditions and banking pages carefully, they would have understood all the possible fees and delays. They could have taken steps to prevent them.
You can take those steps now that you are aware of the potential pitfalls involved with sports betting site withdrawals. So long as you have submitted your identity verification paperwork, read up on the terms and fees involving bonuses and withdrawals, and are familiar with the betting site's processing schedule, you should be able to enjoy withdrawals which are relatively fast, easy and hassle-free.
On one last note. Withdrawal terms and processing speeds are something we look at very carefully when we are reviewing sportsbooks. The sites we promote on the whole are those which have satisfied our strict requirements. That means that their fees are reasonably low. Their processing times are fast. Their bonus terms are friendly, transparent and fair.
If you haven't yet, go ahead and check out our reviews. If you haven't found a betting site yet which makes it easy to withdraw, I think you will find our selection of recommended sportsbooks refreshing.