Editors personal note – I feel totally confident with my bankroll at Bookmaker. Known for consistent payouts, very competitive lines that come out early and support staff that takes care of the bettors I am confident that you will have a positive experience betting at Bookmaker.com (actually now Bookmaker.eu). Bookmaker (Bookmaker.eu) is a major force in the offshore sports betting business.
Many online sportsbooks won't make their lines until Bookmaker's oddsmakers have released their own numbers.
Bookmaker is what you might call a high-volume sportsbook, with just as many customers making high-dollar bets as micro-wagers.
Bookmaker has the reputation of being the home for professional sports bettors.
According to their Website, Bookmaker prides themselves on not turning down any business, even after a customer has a stretch of good luck, as often happens with offshore books.
They have existed virtually since offshore sports wagering was invented. To put it bluntly, Bookmaker is one of the most respected sports betting groups in the world.
They have been around over 20 years. They always pay out.
Screenshots
Bookmaker Bonuses & Loyalty Program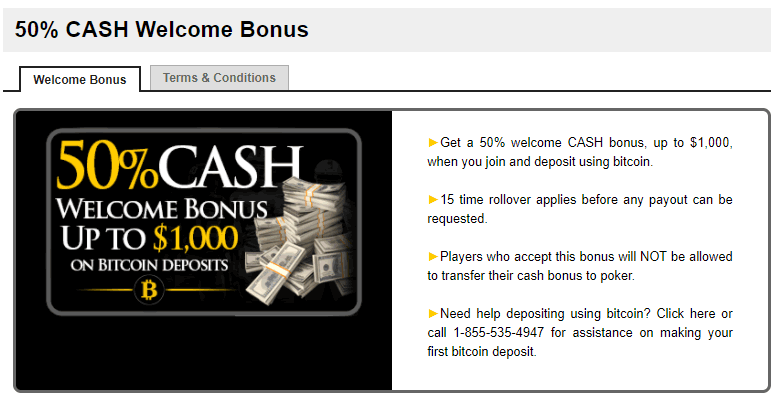 What are the new 2019 Bookmaker Promotions and Bonuses?
There are a number of different bonuses you can take advantage of if you are making a deposit on Bookmaker.
50% to $1000 CASH on bitcoin deposits
50% to $300 for sports (additional 50% to $300 available for casino as well)
100% to $1000 FREEPLAY on bitcoin deposits
15% up to $2500 (must use promo code JOIN15 in cashier)
Bonuses are optional and do come with terms and conditions depending on which bonus you choose.
Be sure you read through the terms on the site before depositing. The good news is that all bonuses are optional and these are very competitive in terms of rollover requirements.
Bookmaker offers a whole series of reload bonuses for customers adding money to existing accounts.
The bonuses on reloads are always smaller. –as of this writing, you can get up to 15% freeplay up to $2500, but it also comes with the freeplay rules.
Other promotions rotate in and out of the schedule depending on the season. For example, right now Bookmaker is offering customers an 8% wagering rebate on Internet horse bets.
The site also offers a cash back reward program, based on the amount that you wager, paid out a few bucks at a time whenever you meet a betting requirement. There is also a refer a friend program.
Sports Available for Betting
Football, NFL and NCAA with a ton of prop's and strong lines.
Most of the sports wagering options at Bookmaker.com are professional and collegiate American sports.
That's because a good chunk of their business comes from North America.
College football and basketball are a big chunk of their business, but so is professional baseball, basketball, tennis, hockey, motorsports, soccer, and even handball and volleyball.
More obscure sports are available at certain times of the year, as is Olympics betting in Olympic years.
The variety of sports available for betting at Bookmaker isn't as wide as at some sports wagering sites, but it has enough betting variety for the average gambler.
Deposits & Withdrawals
Bookmaker has a huge variety of deposit options, some aimed specifically at the difficult North American market.
Bonuses are currently offered if you can deposit with bitcoin or 60 other cryptocurrencies.
The most common deposit methods are Bitcoin, Ethereum, Litecoin, Visa, MasterCard, paysafecard, NETeller, eWallet Xpress, click2pay, CASH person2person service and check by courier.
Withdrawal options are almost identical. In fact, Bookmaker prefers if customers use the same method for both deposits and withdrawals.
Person-to-Person transactions are allowed at Bookmaker, for a nominal fee, and withdrawals via bank draft, wire transfer, and other eWallets are also available.
Pros & Cons
Excellent in-game betting options.
Early lines across all sports
BetPoints rewards system
Bookmaker has an excellent reputation among sports gamblers, and their multiple methods of contacting customer service hint at their willingness to work closely with their customers to clear up any questions or problems.