eSports Betting Sites – Best Sites to Bet on LoL, CS:GO, StarCraft 2 and More
ESports is huge right now, and it's getting bigger every day. Maybe you're reading this as someone who already tunes in regularly to live streams of competitive events, or maybe you are brand new to the world of eSports and are wondering what it is all about. Either way, you will be excited to learn that you can bet on eSports online now.
New to online betting? Read our guide to 13 Newbie Mistakes When Betting on Sports Online.
If you are new to the betting side of COD and really interested in betting on the Call of Duty games for money check out our newbies guide specifically for COD.
Just How Big a Deal is eSports?
To give you an idea for the growth of eSports, let me share a few statistics with you:
In 2016, 43 million viewers streamed the League of Legends championship, while concurrent viewership peaked at 14.7 million. That same year, Game 7 of the NBA Finals set a concurrent viewership record of 44.5 million. It is easy to imagine the viewership for "League of Legends", which is just now picking up speed, possibly eclipsing that in the years to come.

In 2022, Call of Duty racked up 3.2 millions of hours watched.

According to Twitch, around half of male millennials watch streaming video game content on that platform alone.
The consulting firm Activate has projected a $5 billion value for the eSports industry by 2020.
The eSports Observer recently reported that eSports companies have raised around $2 billion in investments just in the first quarter of 2018. That is around the amount which was raised for the entirety of last year.
Is your mind blown yet? These stats speak for themselves. eSports are swiftly catching up with traditional sports in terms of interest, engagement, and revenue.
What is eSports Betting Online?
eSports betting online is your chance to get involved with the action. Just as you can wager on the outcomes of traditional sporting events, you can place your bets on who will win professional eSports competitions.
Even a few years ago, eSports was not nearly as big as it is today, so finding sites where you could bet on the competitions might have involved some legwork.
Nowadays, though, most sports betting sites are offering action on eSports markets. In fact, there is a pretty good chance the sportsbooks you are already a member of are already offering eSports betting.
If you scroll down, you can view the betting sites I am currently suggesting for eSports. Before I get into the recommendations though, I want to tell you a little bit more about eSports betting.
Are eSports Really "Sports?"
First of all, if you are new to eSports, you might be hesitant to wager on it. After all, is it even really accurate to consider eSports to be "sports"? Does eSports betting have any place in the world of traditional sports betting?
Well actually, yes, even going by traditional definitions. A "sport" is considered to be "any competitive activity which requires physical exertion and skill."
You might not think that eSports requires "physical" exertion and skill, but if that is the case, I advise a closer look at the life of a typical professional eSports player. A lot of these gamers practice for upwards of 50 hours a week. They may travel extensively during competitive play, and may be forced to perform continuously for many hours on end.
So, from a stamina perspective, eSports are actually incredibly demanding. Also consider that players need to be incredibly fast with their reflexes while they are playing. And then there is the mental aspect. eSports require numerous tactical decisions to be made and executed rapidly. Translating that into action requires great dexterity. Those who excel have the chance to compete for prize pools which sometimes total millions of dollars.
As you might guess, that means that in some respects, techniques, and strategies used for betting on traditional sports apply to betting on eSports as well. Much of the analysis conducted is similar.
Why Bet on eSports Online?
There are a number of great reasons to bet on eSports online
It is easy and convenient, just like betting on traditional sports online. You can do it anytime, anywhere, on your desktop, laptop, or mobile device.
Betting on eSports online is exciting. As with betting on traditional sports, it brings you closer to the action. If you have not yet discovered the thrill of streaming eSports, it will also introduce you to a whole new world of entertainment.
The skills you have developed betting on traditional sports can serve you well in betting on eSports.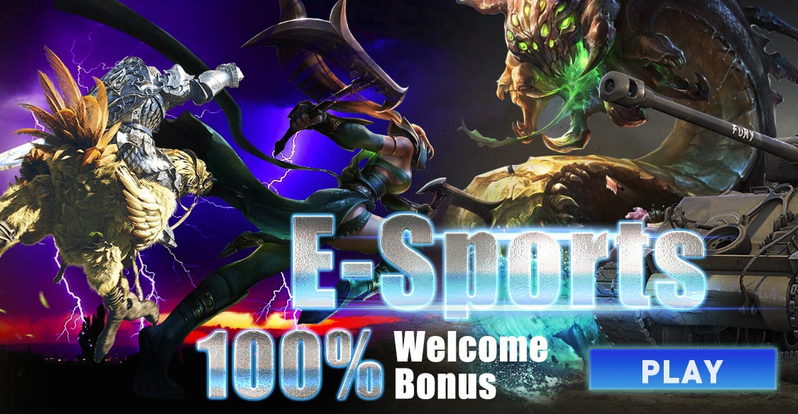 What Games Can You Bet On?
If you are already a fan of eSports, you will be excited to hear that action is available on a lot of your favorite games. If you are new to eSports and not all that familiar with what is out there, here are some of the most popular competitive games to bet on.
Dota 2

Dota 2 is a game anyone can play, since it is free. Developed by Valve, it is the sequel to the original Defense of the Ancients (Dota), itself in turn a Warcraft III mod created by community programmers.

In Dota 2, two teams face off against each other, each with five players. Teams are put in charge of defending bases, and players take on the roles of "heroes." Dota 2 offers more than a hundred heroes to play, each with different abilities. Whichever team is able to demolish "The Ancient" structure located at the enemy base first is the winner.

League of Legends (LoL)

This freemium battle arena game is similar to Dota 2, having drawn inspiration from the same source. Once again, you have two teams fighting to destroy structures within each others' bases, this time referred to as 'nexuses." Just how popular is LoL? Developer Riot Games stated in 2016 that each month averages more than 100 million active players.

Overwatch

This first-person shooter game was developed and published by Blizzard in 2016. The company drew on its extensive RPG experience to craft a unique game featuring more than 20 different "heroes." Like the "heroes" in Dota 2, they have different play styles and abilities. There is a professional Overwatch League and also competitive play seasons for amateur players following the same model and rules.

Counter-Strike: Global Offensive (CS:GO)

This is another first-person shooter game which is played competitively at the professional level. Developed by Hidden Path Entertainment and published by Valve, the game includes 8 different modes. Teams of "Terrorists" and "Counter-Terrorists" face off to try and achieve different objectives like planting or defusing bombs.

Hearthstone

This is an online collectible card game (kind of like Magic: The Gathering). Like many other popular games which have spawned professional eSports competition, it was developed by Blizzard. The game itself is free to play, and is part of the Warcraft universe. The decks used include 30 cards, and the game features turn-based play.

StarCraft 2

This strategy game was developed by Blizzard, and came out clear back in 2010. It remains an incredibly popular game today, featuring the same species and universe as the earlier StarCraft games. Many players still compete with StarCraft: Brood War as well (released in 1998). Indeed, Brood War enthusiasts in South Korea have two TV stations they can turn to for live competitive action.

World of Tanks (WoT)

Developed by Wargaming, this freemium game pits players against each other in vehicles based on real-life historical tanks from eras spanning from the 1930s to the 1960s. There are six different game types offered.
This certainly is not the full extent of competitive eSports you can wager on. Other popular games include Street Fighter V, Rocket League, Heroes of the Storm, Call of Duty, Quake, Smite, PlayerUnknown's Battlegrounds (PUBG), and many others.
Types of Esports Bets
As with traditional sports betting, there are a number of different types of bets you can place on eSports. For example:
To-win

This is where you are betting on which team or player will emerge as the victor of a particular match or tournament.

Totals

With this type of bet, you are wagering on how high or low a certain statistic is going to be. You might for example wager on total points, total kills, total rounds played, or so on.

Over/Under

This is similar to a Totals bet in that it is a wager on a statistic. You are betting that a certain stat will be over or under a given total. You might for example bet on whether a player will achieve more or less than 10 kills.

Accumulator bets

With an accumulator bet, you are rolling a number of wagers together for different matches and/or tournaments. In order to win, you need to be correct with every selection you make.

Handicap bets

This is where points are added or subtracted for a team or player in order to provide for a more even match.

Proposition bets

These can vary widely, just as they can with traditional sports. They are bets which do not directly involve the outcome of matches or events. For example, "What map will be played first in the tournament?" "Which player will get first blood?"
If you already are an avid sports bettor, you probably are familiar with all of these, and may have experience with each of them.
Tips for Betting on eSports
In the next section, I will tell you where you can bet on eSports right now. But first, I want to give you a few tips to help you win your bets.
When possible, play the games that you bet on.

Remember, a lot of these games are free or freemium. That means you can create an account right now and play them yourself. Obviously that is a lot more convenient than taking up rugby or cricket or another traditional sport you might bet on since you can play at home on your computer.

Doing this will give you insights into eSports that you could never glean just from watching and will lend you a significant edge over punters who have no experience playing.

Conduct analysis on teams and players.

When you bet on traditional sports, you look up recent and historical statistics for players and teams, and you analyze their play styles and strategies as well as their strengths and weaknesses. You can do the exact same thing with eSports players and teams. This is essential if you want to win bets consistently.

Be aware that flukes play a major role in eSports.

Just as they do in traditional sports, the "fluke" can play a role and change everything. That means that even if you achieve a "high" win percentage, you probably will still be winning no more than around 52-55% of your bets. All kinds of random factors can cost a player a match.

Consider how factors like travel schedules and long hours might impact a player.

Remember, many eSports players endure notoriously exhausting schedules. Fatigue can take a toll on overall conditioning as well as performance on a specific night.

Learn what you can about players' temperaments.

In traditional sports, some players' emotions can cost them matches, and that applies to eSports players as well. Their tempers and anxieties can easily get the best of them. Indeed, video game players are somewhat infamous for bouts of rage.

Keep up with changes in format, rules, features, etc.

Remember that these games are constantly evolving. Unlike traditional sports which have well-established rules that often go decades without major changes, eSports are living, breathing, changing entities. New features and changes to rules and formats may be introduced on a regular basis. If you do not keep up with this news, it can cost you.

Shop for the best odds.

eSports betting odds may vary from site to site, so you should sign up for a few different sportsbooks. Shop the lines before you make your wagers.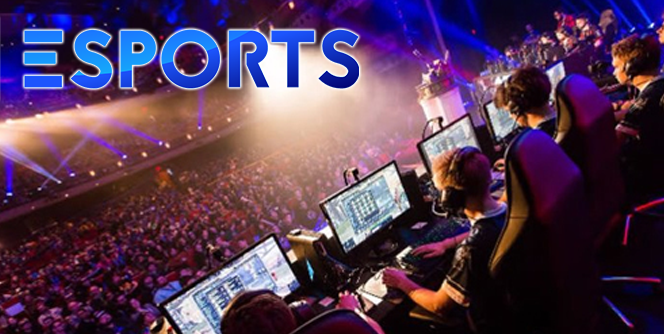 Where to Bet on eSports in 2018, moving into 2019
Now that you know all about betting on eSports, let's check out 6 of the best sportsbooks offering action on Dota 2, League of Legends, and other games.
Bovada

Bovada is one of the best all-around sportsbooks we could recommend for betting on just about any market, and eSports is no exception. This site offers a lot of great bonuses and promotions, and even has some offers specifically for eSports betting. As of the time of this review for example, you can register to bet on eSports and get a 50% match bonus on your first deposit up to $250.

Bovada lets you bet on League of Legends, Counter-Strike: Global Offensive, Dota 2, Starcraft, and sometimes other eSports. At any one time, you should see a pretty sizable selection of betting opportunities available.
BetOnline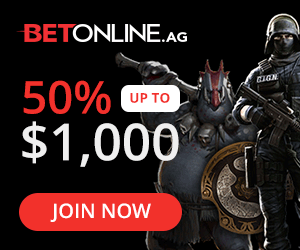 Another site which lets you wager on eSports and which includes many different promotions is BetOnline. Here you can get a 50% welcome bonus or a 100% bonus if you are making a cryptocurrency deposit. There is also a 25% lifetime reload bonus guarantee as well as special bonuses for mobile betting and more.
Games you can bet on when you join BetOnline include Counter-Strike, NBA2K League and others. You can place single or parlay bets, and may bet on match winners, the winners of specific maps and more.
SportsBetting
On this site, you can get a 75% welcome bonus or a 100% cryptocurrency bonus. As with BetOnline, you can get a 25% lifetime reload bonus. Lots of sites do not offer reload bonuses like this, so this is a great offer which provides you with ongoing value. Here too you can bet on Counter-Strike and NBA2K League.
GTbets
This site is very generous with sign-up bonuses. As of the time of this review, you can qualify for 150% combined on your first two deposits. Automated reload bonuses are available as well. You can also register for a Game Time Rewards account, which is essentially a VIP program where you can earn points as you bet. Points can be redeemed later as cash-back.
If you are looking for a wide selection of eSports to bet on, you will be hard-pressed to find a better site to wager on than GTbets.
On GTbets, you can wager on CS:GO, Dota 2, King of Glory, Starcraft: Brood War, and Warcraft III. Action is available for a number of different leagues. Types of bets you can place include straight bets, teasers, if bets, parlays and round robin bets.
BookMaker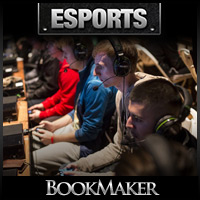 BookMaker offers one of the largest welcome bonuses you are going to find, up to $1,600 combined for the sports and casino sides of the side. The rollover for the casino bonus is 40x, but it is only 5x for the sports bonus. On this site, you can bet on CS:GO, Dota 2, League of Legends, and StarCraft 2.
MyBookie
Another betting site which we can highly recommend for eSports is MyBookie. Here you can enjoy a 50% bonus on your first deposit, and you can qualify for a 25% reload bonus as well as quite a few other great promotions.
This site offers a larger assortment of eSports to bet on than most. You can wager on CS:GO, Dota 2, StarCraft 2, League of Legends and Overwatch on MyBookie. Straight bets and parlays are available.
Conclusion
You now should be ready to get started betting on eSports! With the industry growing so rapidly, the sportsbooks I have recommended are sure to add more games, leagues and bet types over the years ahead, opening up more and more opportunities for fun and profit. Register an account at one or more of the sites above and get in on the action now!
GET STARTED BETTING ON eSPORTS HERE