UFC 240 – Enter the Great White North on July 27th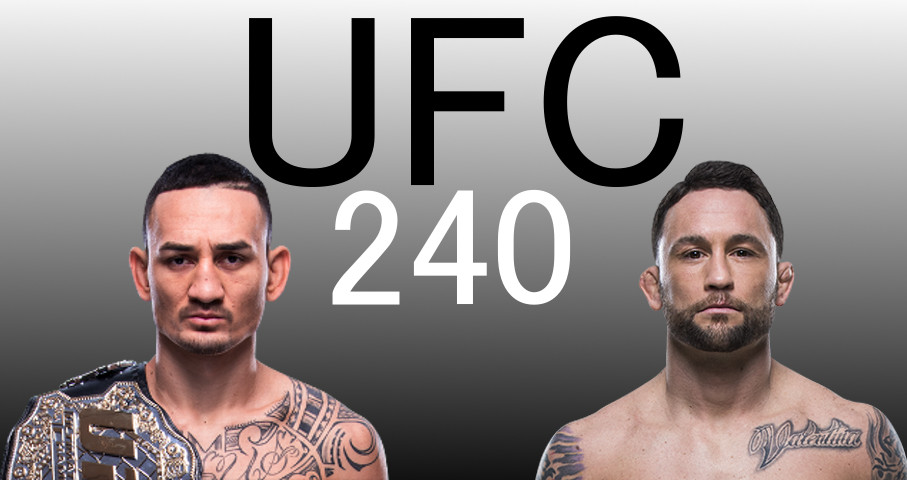 July 27th has a great event coming up for those of you that are into the Ultimate Fighting Championship! Starting off with the main event is Max Holloway (-400) taking on Frankie Edgar (+300) in Edmonton at UFC 240, each vying for that featherweight title.
Also on the card are 11 other fights, one of which is the women's featherweight featuring Cris Cyborg going up against Canadian Felicia Spencer, showing us all whether or not Cyborg is ready to take on a rematch between herself and Amanda Nunes. With a name like "Cyborg", she'd better be. We would expect her to just keep on and keep on coming back.
Also up on the card, we've got the following –
All of these will be Pay Per View if you'd like to watch them. (10pm EST)
Welterweight
Geoff Neal (-270) vs. Niko Price (+210)
Lightweight
Oliver-Aubin Mercier (+190) vs. Arman Tsarukyan (-240)
Middleweight
Marc-Andre Barriault (+145) vs. Krzystof Jotko (-175)
Available on ESPN2 (8pm EST)
Women Flyweight
Alexis Davis (+215) vs. Viviane Araujo (-275)
Featherweight
Hakeem Dawodu (-400) vs. Yoshinori Horie (+300)
Featherweight
Gavin Tucker (-170) vs. Choi Seung-Woo (+140)
Flyweight
Alexandre Pantoja (-105) vs. Deiveson Figueiredo (+125)
Available on UFC Fight Pass (6:30pm EST)
Women Flyweight
Gillian Robertson (-160) vs. Sarah Frota (+130)
Welterweight
Erik Koch (+115) vs. Kyle Stewart (-145)
Heavyweight
Tanner Boser (-155) vs. Giacomo Lemos (+125)
Now that's half of the important information you need to know, and as you can see, there's some pretty good stuff going on there! Hopefully, you know who it is you want to lay your hard earned cash on!
Now here comes the other important half! Where are you going to go and place these wagers? Well, that's an easy one there! There are really 2 options that are by far the best for UFC bets. Let's bring on the first one.
With a lot of sports, you have to find them through the menus at Bovada. (this isn't a bad thing, they just happen to offer a lot of stuff for you!) But not so with UFC!
As soon as you arrive at Bovada, the UFC options are right in front of you, nice and easy to find. Once clicking on the UFC menu, you're taken right over the check out the odds for any upcoming fight. However, if you click on the proper drop down menu at the top of these odds, you can see the odds for any upcoming fight they have the odds listed for, including this mentioned UFC 240, they're already listed.
If you're not already a member of Bovada, go join now! You can get a super nice bonus of up to $250 as a Welcome Bonus for use in the sportsbook, (they also offer a casino as well in case you like slots just as much as sports!)
End up here even though you don't really dig the idea of gladiators duking it out? That's cool, to each their own. Bovada also offers up odds and takes wagers on just about anything other sport you can think of, from the most obvious, (the NFL, MLB, etc) to the more obscure, (volleyball, entertainment, etc)
How are the odds?
Up at the top of this page we'll list the odds on the fights as Bovada has them listed currently. As this is being typed you've got about 8 days to think about who it is you want to back up in these battles! These are listed as American odds. If you're not familiar with these, it's okay. You can also choose to display the odds as decimal and fractional as well.
Virtually any betting site you go to will have a downside, that's just a fact of life. Here's Bovada's. They just aren't available in every country thanks to silly laws to government has passed to help protect you from yourself and what you'd like to do with your money.
Bovada really is the best place for your UFC wagers, but continue on if you cannot get in there!
This is where number 2 comes in! Bodog!
To be honest, there's not a lot to say about Bodog that we didn't cover with Bovada. Again, this isn't a bad thing in itself, it's just a matter of one company is wanting to bite the style of another!
There are some tiny differences that people may see, such as the Welcome Bonus is $200, (going to assume this has something that has to do with money conversion, blah blah blah).
The sportsbook has the same layout as Bovada, and also offers a casino for those that are into that, no surprise.
It's just nice to know that there are other options for those that are not in the US or any other country that aren't accepting of the former.
If you happen to be from a country that will not let you go to either of those sites, take a look at this list, you're sure to find something that will let you play! Just be aware, the 2 we talked about today are the best for the UFC choices!
Before you cut out, take a look at –