Ultimate Guide To Sports Betting Teasers
Sports gambling has a wide variety of wagers to place on every event. Straight wagers and props, moneylines and parlays. Gamblers tend to find a system of wagers they like and stick to it for better or for worse. Some of the more exotic wagers can be intimidating upfront however, as a sports gambler, it is important to know as many types of wagers as you can in order to find the valuable bets to make your wagers successful ones.
What every smart gambler looks for is a wager with a big reward while risking as little as possible. Big reward, minimal risk, that's the name of the game.. And there is no way to find this unless you are familiar with every wager available. Learn the wagers, know how to win and a great wager to learn which maximizes reward while minimizing risk is the teaser.
The teaser is just like a parlay in most respects. You pick the winners of 2 or more teams. All of those winners come in. You collect on all of the compounded odds of the games. If any one of the teams you've picked lose, the entire wager loses. The parlay is, by its very nature, a very risky wager. Sure, it has a great payout but the risk is too much at times to make it a wise play.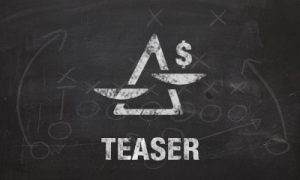 And that's where the teaser comes into play. Just like a parlay, a teaser is a wager on 2 or more teams, however, you can adjust the point spreads and/or the totals in your favor in exchange for a lower payout. When your teaser is on point spreads, you can decrease the point spread for the favorite or, conversely, increase the spread for the underdog. If your teaser includes a total, you can increase the "under" or decrease the "over."
Your odds are determined by the sport you are playing, the number of teams you are picking, and the amount of points adjusted.  There are bad teasers and there are good teasers so it is important to know not just what they are but how to play them.
The whole point of a teaser is to better your odds so that is exactly what you should be looking for on a bet. For example, let's say you like Team A to cover but it doesn't pay well and the final outcome could be close. You like Team B as well and they should win in a blowout so the odds are low as well. What do you do?
You could bet individually on each team and that's two different bets without much of a payout for either. Or you could use a teaser. Now, you have one bet so the odds have compounded and now pay out more. And you've moved the line on Team A so the outcome isn't as close as before. You've lowered your risk while raising your reward.
Sports gambling is going to give you plenty of types of wagers to place. While none of them are guaranteed to win, there are many, when used properly that will increase you reward while limiting your risk. These are the wagers you need to find and play and the teaser is a good place to start.
Top 5 Sportsbooks To Bet Teasers