Your Matched Betting 'How To'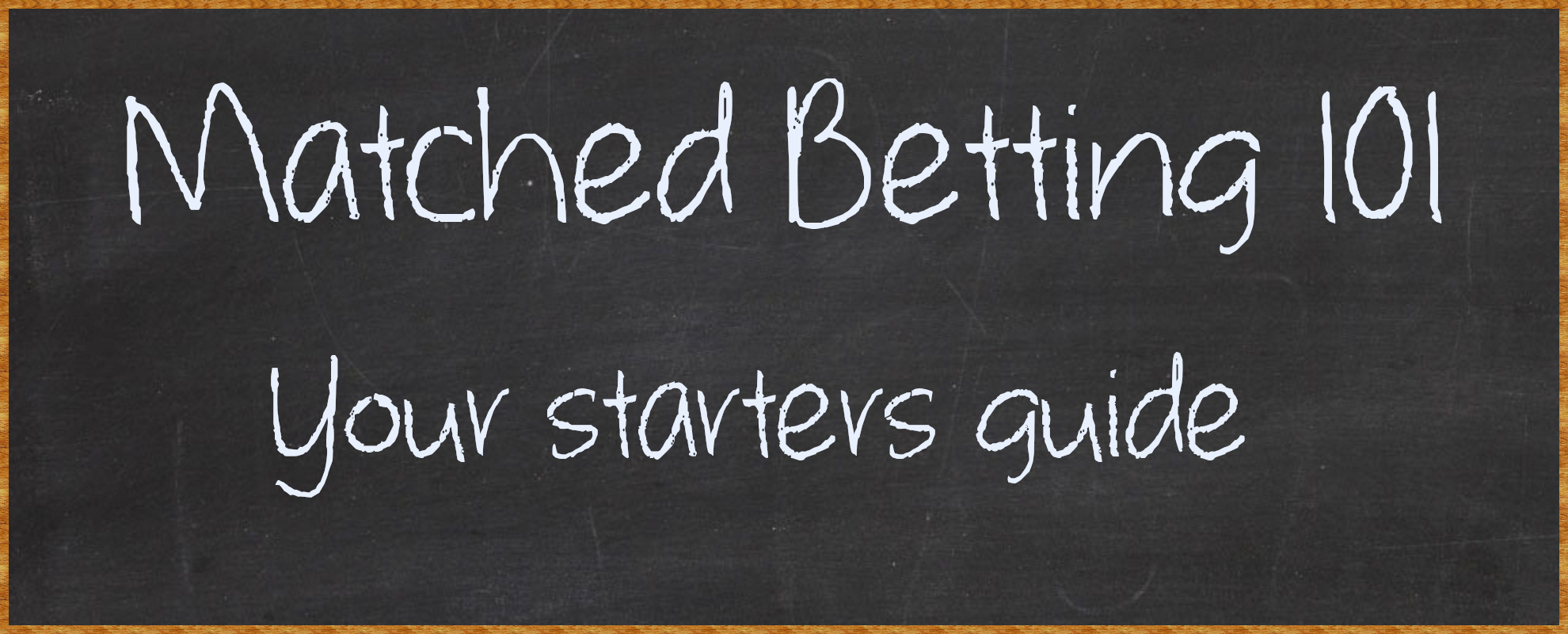 Have you ever heard of "matched betting"? Honestly, if you came across this article and thought "I should read that", you're probably curious and you may have questions. It's okay! We all had to get started somewhere and we're here to help you out with them!
One of the biggest questions people ask first is a variation of "Can you quickly and easily make a guaranteed profit through sports betting sites?"
The short answer? Yes, and yes, matched betting really does work.
Well, then why aren't we all millionaires?
That would be too easy. The caveat is the fact that you can only use matched betting to make a limited amount of money. But it's still worth it. Why would anyone ever say no to some easy money? Just how easy? Well, let's get started and you'll be better informed to make the decision as to whether it's right for you!
What Exactly is Matched Betting?
While you're going through all of your sportsbooks of choice you may find a promotion such as "Deposit $5, Get $20". This would be known as a "Free Bet" and there are a ton of sportsbooks that offer these, including most of the reputable ones that we work with.
First and foremost, you should be aware that these Free Bets are not actually free. In order to claim them, you'll have to meet all of the Terms and Conditions that you'll find in the fine print. While these terms will change from site to site, they're almost always going to require you to place another wager first with your own funds. So, you'll generally end up losing money to claim money which is at best, a sum-zero game and quite often will amount to a loss through the vig if nothing else.
Enter Matched Betting.
With matched betting, you essentially hedge your bet by placing two opposing wagers on the same even at different betting sites. Something that needs to be done with this is this – You've got to make sure that the odds are as close as possible, which is why this is known as "matched betting".
If done correctly, profit is almost a guarantee with matched betting. We say almost. Nothing in life is a guarantee and you will probably take a small loss temporarily as part of the process, but it will be offset by the time you have completed it.
Note that it's also possible to lose money overall if you make an error at any point in the process, and you'll need to do two rounds of betting in this fashion in order to make a profit.
This may be sounded complicated, but we're going to break it all down for you once all is said and done here.
Key Matched Betting Terms
Once we get good and going here we're going to use some words and terms that you may or may not already know. Let's go ahead and define them real quick so that you're good to go.
Free Bet

This bet is worth a certain amount which a sportsbook provides to you. This will almost always be for new players that have not made a deposit at the said site in the past, but not always.

Qualifying Bet

This is a bet you're going to have to place with your own money to qualify for the free bet.

Back Bet

This is the most common type of bet. You are wagering that a certain outcome will occur.

Lay Bet

This is a less common type of bet. This is where you wager a certain outcome will not unfold. Only betting exchanges offer lay bets.
Steps to Placing a Matched Bet
Start off by selecting two betting sites.

This is probably going to be the most tedious part of the whole process. You'll have to find one that offers a free bet, and the other must be an exchange such as Betfair.

Once again, when you're looking for your free bet site, most of these are only going to offer them to brand new players. BetOnline is one of our favorite sportsbooks and is usually good for some free bets. You can only use them once but it makes for a great starting point for placing your first matched bet to see what it's like.

Note – Make sure that before you accept any bonus you read and understand the Terms and Conditions for claiming said bonus. We're trying to help you winDeposit what you need in order to wager at both sites.

Now you will need to place at least the minimum deposit on both of the betting sites. At BetOnline, the minimum deposit required can be as low as $20 which does let you fall into many of their free bet promos. Just make sure that you have enough in both of your accounts to cover your bets at both sites.

Find a lay bet and a back bet on the same event which offer closely matched odds on the two sites that you have joined.

At this point you'll notice that in order to claim the free bet, you're going to have to place a qualifying bet which is more than likely going to have relatively high odds. These odds may exceed 1.5 or even 2.0. This is going to be the snag that generally causes the players to lose money trying to claim a free bet.

So now you're looking at your two bets on the same event with close odds. A back bet on the site that's offering the free bet, (BetOnline for example), and a lay bet on the betting exchange, (Betfair for example).

Here's an example:
Playmouth vs. Cambridge is scheduled for the upcoming Saturday.

You find yourself back odds of 2.0
And lay odds of 2.06

This would be a perfect choice for your matched bet. Not only are the odds very close to each other, but the odds are above the minimum threshold requirements for your qualifying wager at BetOnline.

Place the two bets.

Now it's time for some action! You're going to be placing both of your wagers.

Following our example, you will place your back bet at BetOnline. In this scenario, you're going to place a $5 bet and bet on Plymouth to win.

At your betting exchange, place your lay bet. This should be $4.98 on Plymouth to lose.

On this bet, you'll end up losing up to $0.27. The calculations on this may seem complicated, but as you can see it's a very small amount.

Sweet, now you've got the free bet available to use, but you're not done yet!

Repeat the process above with a second event and another back bet and lay bet.

Now you're just going to do everything you did in the previous step, but with a different event and using the free bet as the stake on your back bet.

So once again you're going to need to find a match that has similar odds at your two sites. Let's just say it's a Fulham vs. Birmingham match and you find back bet odds of 4.50 and lay odds of 4.70.

In our example, we're going to say that you've got a free bet of $20 at BetOnline. Use your free bet of $20 and place it on Birmingham to win. Again, this is your back bet.

On your betting exchange, you'll wager $15.05 on Birmingham to lose as your lay bet.
At This Point, One of Two Things Are Going to Happen
If Birmingham wins, you win the payout on your free bet. (Some sites will return this, others will not. This is another reason to make sure that you check out all of the Terms and Conditions wherever you choose to gamble!) Going this way, you will lose the bet you made at your betting exchange.
Now, if Birmingham loses, you're going to lose the free bet but win the wager you placed over at the betting exchange. Either way, you're profiting around 14 bucks!
Is This Legal?
Absolutely it is! Two things:
As long as you're legally betting, nobody can tell you who to bet on, and
Betting sites just don't care if you do this.
In fact, William Hill spokesman Graham Sharpe has said, "There's no illegal element. It's a free bet and you can do what you like."
The only situation where you may find a betting site getting angry with players for doing this is when the players in question are abusing their promotions. If a site makes a free bet available to you one time, then you really shouldn't be looking for loopholes to exploit anyway! Don't make a bunch of fake accounts and try to grab the bonus(es) over and over. They WILL figure it out and you'll get the ban hammer for violating their Terms and Conditions.
Why Do Matched Betting?
Obviously, the idea of an almost guaranteed profit is exciting and all, but you may be wondering why so much effort is going into winning such a small amount of money.
The answer is this: There's really only a matter of a lot of time and effort in this in the beginning. Once you have done the process a few times and get a solid understanding of it, the steps all become second nature. At that time, it's going to speed way up and you'll find that you can earn money not only quickly, but reliably.
You may be wondering now, "What happens when I run out of free bets?"
That's a good question. Eventually, you are going to end up using all of the offers you find. Now and then another opportunity may come up, but you're pretty much done with matched betting. So why bother with something that's not going to last? Here are a few reasons to consider:
Money is money.

You should never take it for granted, even if it is a finite amount. There are hundreds, if not thousands, of dollars waiting to be made.

There are plenty of ways you can use the profit from matched betting.

You can either take your winnings and pay off some debt or buy yourself something nice. Finance your education. Buy a car. Be responsible and just save it for the future. The possibilities are endless!

Sportsbooks offer you these free bets to get you interested in gambling, not to make you money.

Again, you will usually lose money through free bets if you bet in the traditional way. If you use matched betting you get to actually profit with free bets. It's really a roundabout way for you to claim as much of the original free bet amount as possible as actual, free money.
On top of all of those reasons is one that's even more exciting than the rest and that's the chance to actually learn about sports betting. You'll find out a ton about how to read, interpret, and calculate the odds and payouts doing matched betting. Along this journey, you'll also discover a great deal about calculating and managing your risk.
Conclusion
When you get around to learning about how to bet on sports using a system you'll be able to pair it up with this newfound knowledge of money management and odds. This is going to increase your profitability.
While you're at it you'll also find out a lot about each individual sportsbook. You'll be familiar with their bonuses, their promotions, and the Terms and Conditions of each one. You'll likely learn a few things about the different markets they offer and what sportsbook you prefer for different sports as well as the customer service and perhaps the most important thing. The speed of the payouts when you win!
By the time you're ready to wager on sports using real, long-term strategies you'll know exactly which sportsbooks are going to be the best to deal with!
Other "Starter" Articles For You: