New England Patriots vs Los Angeles Chargers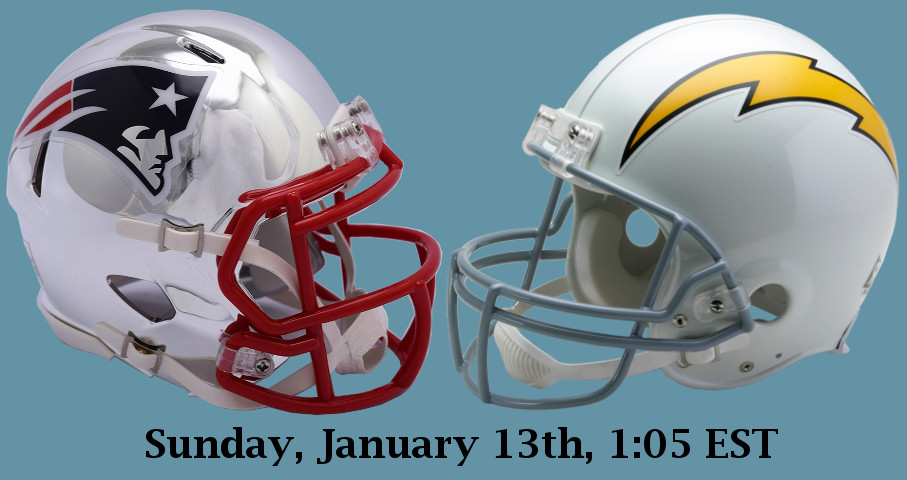 Welcome back to our series of previews for the Divisional Round of the NFL playoffs, as we get closer and closer to discovering who will compete in Super Bowl LIII in Atlanta, Georgia in less than a month. Eight teams remain but that doesn't really give us an indication as to who's making it to the big dance. Literally, any of them could still spring a surprise this weekend.
Today we're going to take a look at the encounter between the New England Patriots and the Los Angeles Chargers, which will serve as the only 2nd seed vs 5th seed of the weekend. The Patriots have been awarded the opportunity to sit back and watch the rest of the competitors battle it out during Wild Card Weekend, which is something of a familiar feeling to them.
On the other hand, the Chargers were just about able to hold off the resurgence of the Baltimore Ravens last week. Defensively speaking they played some great football against Baltimore. The fact that they allowed them to get back into the game late in the day may worry some fans.
Patriots
This season has been a pretty interesting one for the Patriots. They secured an 11-5 record as well as a first-round bye. The last time that happened was way back in 2001. That's when they became world champions for the first time. They're no strangers to the post-season by any stretch of the imagination. However, they'll have to ensure that they remain focused on the prize at stake.
Chargers
The Chargers actually wound up finishing with a better record than New England in the regular season. They landed a really strong 12-4 record that left them in 2nd in the AFC West. This is the first time they've put together a 10-win season or more since way back in 2009.  Some have suggested that this year has vindicated their decision to make the move back to Los Angeles.
Location
The game will be played at Gillette Stadium which is a reason many fans are favoring the Patriots. It's their home turf. It's another thing that everyone seems to think they could call from a mile away. But, that often isn't how the playoffs work. These two sides have worked incredibly hard to get to this point of the campaign. Neither is going to go down without a fight.
Key Matchups
Tom Brady and Philip Rivers are easily two of the best quarterbacks of their generation. However, when put up against one another, it's been Brady who has come out on top with a dominant 7-0 record over Rivers. Tom is more precise and tends to have better weapons around him, whereas Philip is a bit of a gunslinger which can always be a risk at this level.
Of course, protecting Tom Brady is going to be one of the biggest missions of the day. That responsibility will fall to Marcus Cannon and Trent Brown. The duo has done a great job in this regard throughout the course of the season. However, Melvin Ingram and Joey Bosa are different animals altogether. This could easily serve as the difference maker between victory and defeat for both teams.
Betting Odds
The New England Patriots are the favorites to progress to their 8th consecutive AFC Championship Game, although it's closer than you may have initially thought. New England are priced at -190 in the BetOnline money line with Los Angeles serving as the +165 underdogs, and on the spread, it's -4 for the Pats and +4 for the Chargers. Bovada also has Brady's men at -4.
It's also pretty tight over at MyBookie with New England priced at -185 with LA being the +155 underdogs, with a similar -4 and +4 spread.
When it comes to an analysis of those odds it's certainly going to come as a surprise to some that New England doesn't have a larger spread and money line advantage. Of course, the Chargers are resilient. Either way, we aren't convinced that there's as much money to be made in this one in comparison to the other Divisional games.
Keep on Going!