Where To Bet on UFC 225 – Whittaker vs. Romero 2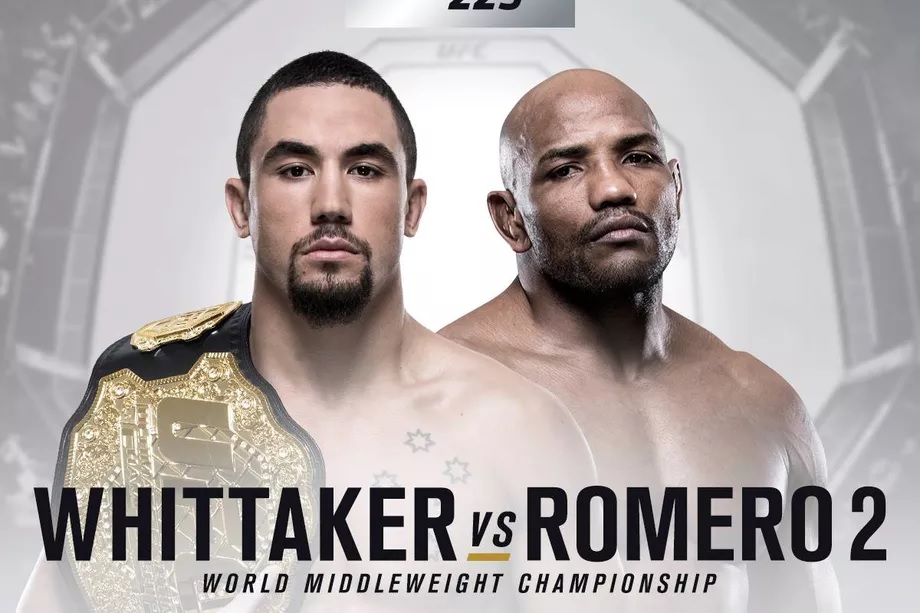 UFC 225: Whittaker vs. Romero 2 is an event that will take place on June 9. It features a highly anticipated rematch between the middleweight champion Robert Whittaker and title challenger Yoel Romero, along with several other intriguing match-ups including Rafael dos Anjos vs. Colby Covington and Alistair Overeem vs. Curtis Blaydes. Here's a preview of the fight card and odds taken from 5Dimes:
Main Card:
Robert Whittaker (-235) vs. Yoel Romero (+195)
Colby Covington (+110) vs. Rafael dos Anjos (-130)
Holly Holm (-245) vs. Megan Anderson (+205)
CM Punk (+190) vs. Mike Jackson (-230)
Andrei Arlovski vs. Tai Tuivasa
Prelims:
Alistair Overeem (+120) vs. Curtis Blaydes (-140)
Anthony Smith (-280) vs. Rashad Evans (+240)
Joseph Benavidez (-225) vs. Sergio Pettis (+185)
Carla Esparza (+360) vs. Claudia Gadelha (-450)
Clay Guida vs. Bobby Green
Ricardo Lamas vs. Mirsad Bektic
Rashad Coulter vs. Chris de la Rocha
Mike Santiago vs. Dan Ige
Where to Bet on UFC 225
Where to bet on UFC 225 depends on which payment method you want to use, which country you are from and which promotions you want to take advantage of. We recommend choosing the most reputable sites, rather than lesser known betting websites which might offer better deals. Here are our top recommendations:
Bovada: One of the most reputable, A+ sportsbooks. They accept credit card, cash and Bitcoin. Bovada is currently offering a 50% sign up bonus of up to $250 along with a 50% sign up bonus of up to $500 for bitcoin deposits.
5Dimes: 5Dimes is one of the oldest and most reputable sportsbooks out there. They currently offer up to $500 in free-play bonuses depending on your method of deposit. 5Dimes also offers reduced juice bonuses for all new members, meaning the company takes less cuts from the bet and bettors have a higher expected value. They currently accept credit card, cash and Bitcoin.
BookMaker: Well known for their good customer support, on-time payments and their loyalty program. Bookmaker accepts all kinds of payment methods, making it very convenient to use. Some of payment methods accepted are: VISA, Mastercard, cash, wire, Bitcoin, Litecoin, Ethereum, other crytopcurrencies and more. Bookmaker currently offers a 15% cash sports bonus of up to $600.
Who to Bet on
You'll have to do your own research before deciding who to bet on. Be sure to not fall into any of the betting biases.
If you want our suggestion, we recommend betting on Colby Covington at +110. His opponent, Rafael dos Anjos has shown a weakness to wrestling in the past (he was taken down nearly immediately by Jason High and Khabib Nurmagomedov).
Colby Covington will be the best wrestler he's faced at welterweight. Covington was able to outwrestle a much larger and stronger judoka in Dong Hyun Kim for three rounds. Expect him to do the same against dos Anjos. There should be plenty of value betting on Colby Covington at +110 at 5Dimes.
Visit 5Dimes
to bet on Colby Covington and take advantage of their $500 sign up bonus with reduced juice.
Also, be sure to check out