Musk vs. Zuckerberg Fight – What We Know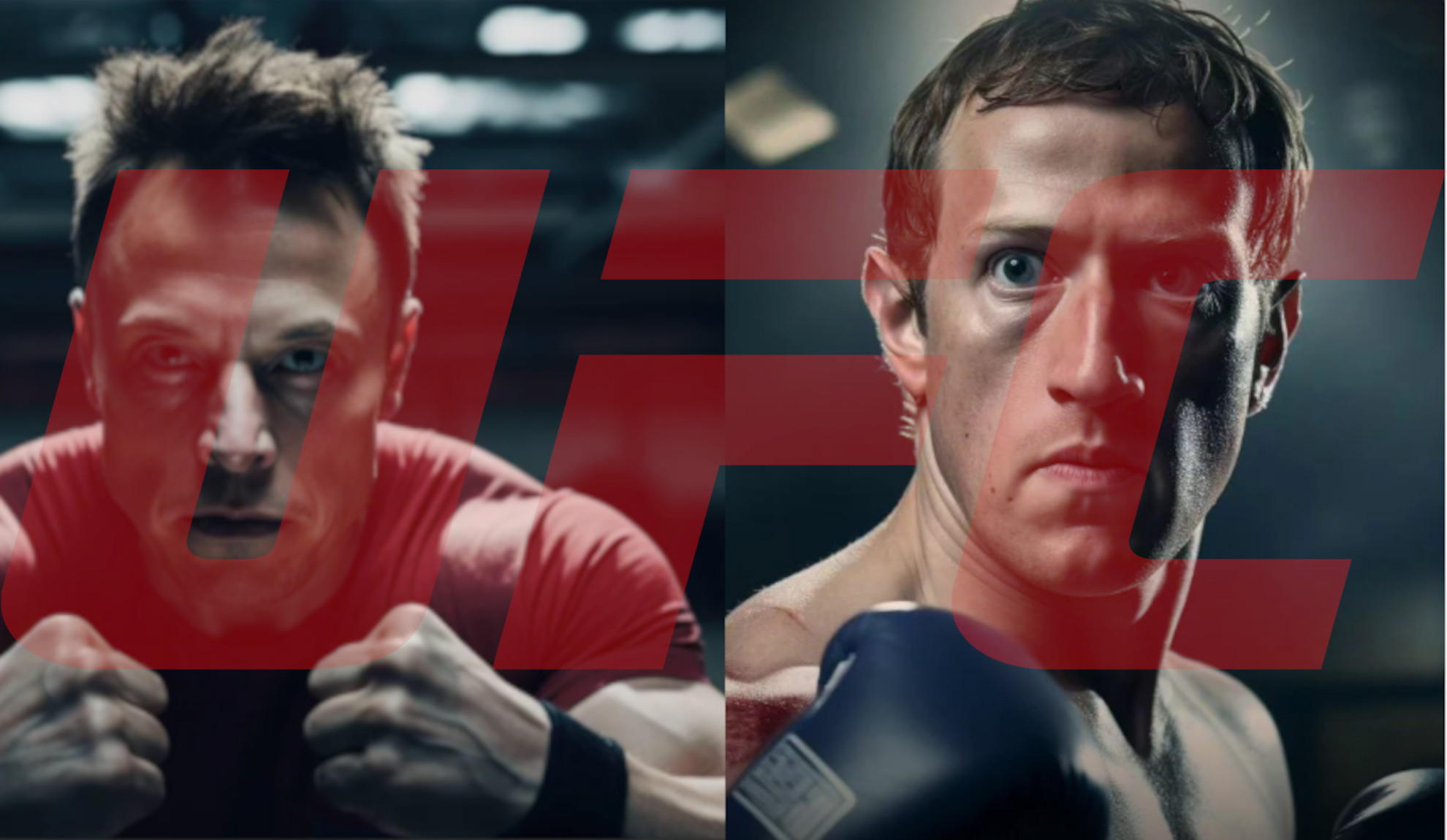 ** Updated, August 7th **
Oh man, this should be a good one here. It's the ultimate showdown of nerd versus nerd and only one can come out on top!
That's right, we're talking about the Elon Musk vs. Mark Zuckerberg fight that's (supposedly) going to be going down and we're bringing you everything you need to know about this once-in-a-lifetime event! Well, okay, maybe somewhere a couple of other dorks have fought before, but not at this level!
Now, you should be aware of something, and that's the fact that none of the sportsbooks we work with are showing any odds for this just yet. Yeah, we don't get it either. We work with a lot of books, you can click here to check them all out. But even with all of those options, none of them are showing a lot of interest in this event just yet. No worries, mark this page and check back on it every now and then, rest assured we will update as soon as we can!
Until then, just keep on reading to check out all of the information we do have on this!
Let's just go ahead and start right off at the beginning.
Why Are The Two Tech-Gods Fighting, Anyway?
You know, it seems almost as if nobody can find a really good explanation for that.
We do know that if one were to follow a timeline of these geeks they would see that some mild bickering goes all the way back to 2016 when Musk and Company (SpaceX) failed to launch a satellite for Zuckerberg, you can see more about that here.
At the time of this launch failure, Zuckerberg decided to start talking some trash right there on Facebook.
It may have taken a couple of years, but Musk finally responded with some big talk of his own on Twitter and a nice, good ol' fashioned feud was born.
Now let's travel up to 2017 when Zuckerberg started to run his mouth once again during a Facebook Live video session.
As you can imagine, Musk once again responded on Twitter, essentially letting everyone know that Zuckerberg had no idea what he was talking about. No, he did not say that Zuckerberg is an idiot, he was actually very polite about it for someone that's trying to rub their nemesis' fur the wrong way.
Now in 2018 Musk came through with the first swing by deleting all of "his" accounts on Facebook, (personal and company pages) and basically Tweeting "What's Facebook?" and getting many of his "followers" to do the same.
And this is where things are going to get good!
Musk comes out swinging once again, no pun intended, when in January he Tweeted that "Instagram makes people depressed" and that WhatsApp "cannot be trusted". Both of these apps are of course owned by Meta, the Zuckerberg back parent company.
Not quite content to just leave it there, Musk came through one more time in the middle of the year when out of the blue he said that he was "up for a cage match if he is" in reference to Zuckerberg.
Zuckerberg finally responded to this one with a "Send Me Location" on his Instagram page.
Things get quiet, for a couple of weeks anyway. Come the start of July of this year and the app Threads is launched. At this time Zuckerberg hops on Twitter for the first time in 10 years just for the sake of posting everyone's favorite Spidermen pointing at each other, blatantly making fun of the two apps competition.
Musk responds shortly after this by letting everyone on the planet know that not only is "Zuck is a Cuck" but also challenge Zuckerberg to a literal dick measuring contest!
That's where the story is so far.
What got these two so riled up in the first place and really got them going? We may never know.
We know that the two men are saying that they would like to beat each other to a pulp and we're all about it!
Have you ever bet on UFC or MMA fights before? If not, you're going to want to make sure you take a look at this
MMA Betting Guide
!
Also, once it's time to make your UFC and MMA bets, check out
BetOnline
where you can take advantage of their
Win Double On Fight Night Promotion
!
The Fighters
Some Quick Facts About Elon Musk
Height: Between 5'11 and 6'1 depending on the source
Weight: Between 185 and 200 lbs. depending on the source
Age: 52
Discipline: Karate, Taekwondo, Judo
Just how tall is Elon? Depends on who you ask. Just a quick Google inquiry brought us 4 different answers, all stating themselves as fact. Same with a weight inquiry.
We do know this. Musk is a pretty decent sized guy. You can see this on talk shows, interviews, even guest spots on television sitcoms.
While he does have some past experience with Karate, Judo, and Taekwondo, as far as we know he hasn't really been doing much training as of late, going so far as to actually brag about it, although that has changed very recently with updates and photos of him training with UFC Legend George St. Pierre, Martial Arts Artist and Coach John Danaher, and fellow smarty-pants Lex Fridman, who happens to be a Jiu-Jitsu black belt holder.
Is Musk taking this seriously and getting back into a physical regime? He's sure acting like it!
Some Quick Facts About Mark Zuckerberg
Height: 5'7
Weight: Between 155 and 160
Age: 39
Discipline: Brazilian Jiu-Jitsu
As you can see from just above, there's quite a bit of a size difference here. If the two men were regular fighters there's no way they would even be in the same class. Zuckerberg would be in the lightweight class whereas Musk would be in the middleweight or light heavyweight class. (Take note that in exhibition fights you can ignore weight classes.)
Weight class aside, among the things that Zuckerberg has loved for a long time now is posting photos of himself being considerably more "active" than many other people and keeping up on his training and physical regime.
Perhaps in an answer to Musk's own "pics of training", we also know that Zuckerberg has been doing his own thing such as training with UFC Champs Alexander Volkanovski as well as Israel Adesanya.
So is The Zuck taking this seriously? Well, it would certainly seem that way although nobody knows for sure until an actual real date gets set for this match!
Other Notes
There's still no date set for this fight.
Is this a case of a couple of billionaires are just getting bored and talking-smack to and about each other? That's possible.
Something to keep in mind through all of this is the fact that Musk's biographer, Walter Isaacson has gone to say that a "fight would not actually happen" and that it's all a metaphor for the two tech giants and the struggle they're having with each other.
At some point, someone brought up the idea of the two "fighters" going into this anyway in the name of an as-of-yet unnamed charity.
Wait? So these two men are threatening to beat each other into submission and it can be done in the name of a charity? Now we're doubly-in!
We know for sure that the powers that be over at the UFC Store want in on this as you can currently head over and get yourself some Zuckerberg vs. Musk swag to mark the occasion!
The Odds
As we have stated since the beginning of this page, we work with many sportsbooks. No, really! You can take a look at all of them right over here!
The weird thing is though, is that none of these are offering odds on this match just yet. We will absolutely update this just as soon as we can and let you know who's taking wagers on this as well as the odds you'll be facing along with the best promotions that you'll find once that time comes.
Until then, we can say that if one were to look around online, they will see that Google will return results that put Musk at +140 and Zuckerberg at -160. If you don't know how to read the odds, make sure that you check this out. These are basically saying that Zuckerberg is the favorite to win here as surprising as this author is finding it.
What those odds mean is that one would need to wager $160 on Zuckerberg for a $100 profit, whereas someone would need to bet $100 on Musk to profit $140.
Why is this the case? Maybe the bookmakers are taking the age into account. Maybe they've seen something in these "training photos" that the two fighters are posting. The point is that we just don't know ourselves, but that's where they are currently.
Trust us, we want this to happen and will update just as soon as we can!
Until then, you're just going to want to keep an eye on the Facebook/Twitter/Thread/ universe and watch these gladiators. Keep up on what they're doing to get ready for this cage-match. Maybe you'll be surprised at the outcome and want to change your bets!
** Updated, August 7th **
According the the New York Post, the boys are still talking their smack and they're both "ready", although is it really Musk that's putting it off?
On August 6th, Musk tweeted (X'd?) "Am lifting weights throughout the day, preparing for the fight. Don't have time to work out, so I just bring them to work."
Now this just may be our opinion, but that kind of sounds like a dig in itself, and kind of a funny one. But whether or not it was supposed to be a jab at Zuckerberg, Z responded with "I'm ready today. I suggested Aug 26 when he first challenged, but he hasn't confirmed. Not holding my breath."
So here we are, both of our gladiators (heh) still poking a little fun at each other and keeping the rest of us ready for the show, ready for the fight! As of today they're still acting as though this is something they're ready to do (well, at least Zuckerberg is), and we're ready to place some bets and try to win some cash over here!
And You May Want To Check These Out As Well